To: Nebraska in 1869

James M. Liggett made another major move further west, seven years after the 1862 Homestead Act gave 160 acres of western frontier country to every settler in Nebraska. James and his son, George, "camped on the Big Blue on May 25, until getting one of the first homesteads in C town on June 10, 1869." James was 57 and George was 22. Two of his other children, Martin Liggett, and his daughter, Lena's family, the Gladwishes, appear to have come with him to Nebraska, as all of them were living together for the 1870 census. James Liggett was noted to be a widow in this census. His wife, Jane McCarty Liggett, apparently passed away while they were living in Ohio or Illinois.
John and Lena Gladwish had a third child, Emma, and George and Georgianna Liggett, had their first child, Etta Nora, just before the big move across the Mississippi River to Nebraska. George Liggett's descendants remember how he used to say he would never go back to Illinois because he would have to cross "that gosh dang river again."
Living in the same area of Seward, Nebraska, was the Henry W. and Abbie Tuttle family from New York, who ran a hotel. Martin Liggett (pictured above) married their daughter, Ella, (below left) on July 13, 1870. She was 18 and Martin was 25. Their first child, Harry, died May 13, 1875, age 3 years and 11 months in Seward. They later had a daughter, Pearl (below right), born Jan. 26, 1878 in Aurora, Nebraska. The two families moved to Broken Bow where Martin made a living in the hotel business with his father-in-law. His daughter, Pearl, later married Claude Wahl in Broken Bow.
James M. Liggett remarried in 1871, to Mrs. Julia Buchaner from New York. She was 35 and he was 59. The marriage was short, because James married a third time, to Mrs. Mary Thouvenel of Plattsmouth, six years later, in 1877. Mary Thouvenel was born in January 1831 in Canada of French parents, immigrated in 1855 and was 19 years younger than James (who was 64 when he married her). She had a daughter from a prior marriage, Adla Touvenel, born in Missouri in 1850.
According to a biographical sketch about James Liggett's youngest child, George Liggett, in Andreas' History of the State of Nebraska, the Liggett homestead was located on,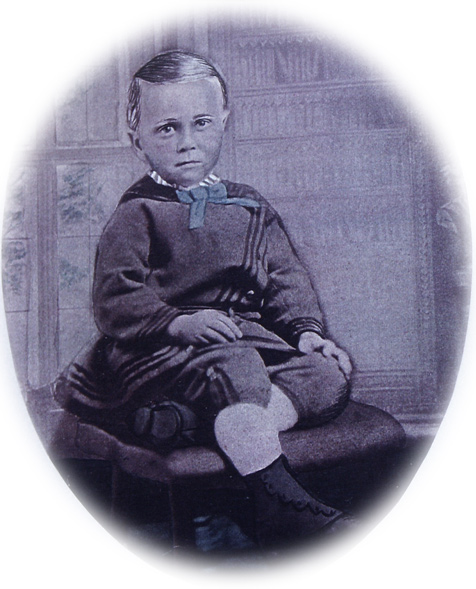 "Section 28, Town 12, Range 2 east, Seward County, where George Liggett lived one year, then moved to the town of Seward, and started the first harness shop in the place, which business he conducted till 1872, at that time going to Antelope County (for the grasshopper years). After remaining there three years (where George's second child, James Bela, [pictured at age 7], was born "in a soddy in a hillside near Macon" on May 17, 1874) he returned to Seward in 1875, and in the fall of 1876 embarked in the grain business in Seward, conducting it there until the fall of 1877, when he removed to Utica, where he still continued his former pursuit, and has since successfully operated that business, besides being engaged in the mercantile business two years, Mr. George Liggett, is a member of the I.O.O.F., Seward Lodge, No. 26."
Utica was named after Chief Utica, a noted Mohawk Indian during colonial times, and was advertised as the "garden spot of the nation". The Burlington & Missouri Railroad created Utica as a town in August 1877 as "an important station, equidistant between Seward and York for shipments of stock and grain." George Liggett built a grain elevator at the railroad head, and continued in the grain business there for 25 years (evolving into Liggett, Hurlburt & Co., Dealers in Grain, by 1883). The Nebraska Reporter for Sept. 13, 1877, describes a tour taken by the editor of the new town of Utica and includes this comment: "Ragan and Liggett in a pleasant office with platform scales attached and an extensive grain warehouse within a short distance, buying and selling grain."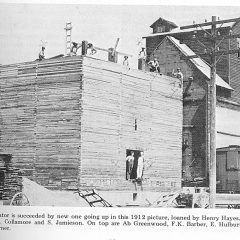 "Following a fracas between Utica businessmen and some railroad workers, which made state newspaper headlines, 'Utica on Rampage'", the Reporter for Nov. 29, 1877, says, "George Liggett informed us last Monday that nobody has died yet at Utica, nor is anybody likely to die immediately judging from the healthy appearance of the inhabitants, all rumors to the contrary." We don't know if the rampage occurred in the "old blue front saloon building" built by George in the 1870s. Both George Liggett and George F. Hurlburt signed the petition to incorporate the Village of Utica in 1882 when it had a population of 220.
After George and Georgianna Liggett had been married 18 years, they had a third child, Cassius George, in January 1883; the year after George founded the Merchants Bank in Utica on July 16, with George and Clifford Hurlburt, Thomas E. Standard, and John Wilken. There was another bank in town, but after it was robbed, George Liggett decided to keep his stash of gold in the grain elevator. Soon after a grain elevator was also robbed, and he became nervous that he too would have his savings stolen. So he and his partners started a second bank. It started out in a little frame building and the following year it moved into a brick block erected by Hurlburt, Liggett, & Co. George Liggett was its vice-president until 1898.
George Liggett was in the Utica Cornet Band with his son, James Bela (Jim) and brother-in-law, Clifford Hurlburt:  Top Row: Ben Carter, Joe Manville, Dan Kellerher, George Liggett, John Wilken, Lee Rose, Joe Casler; 2nd Row: Scott Derby, Billy Nevin, Cliff Hurlburt, Chas Turner, Dan Hartrum; Front: James Bela Liggett.
Four years after Cassius George was born, his sister, Etta, married Clifford Gordon Hurlburt, on Sept. 21, 1887.
Clifford was also from Illinois, born July 18, 1858, in Peoria. The year following their marriage, on July 24, 1888, they had a son and named him Ralph E. Etta died just a few years later, on Feb. 26, 1892, when Ralph was only three years old. The families would continue to do business together as The Utica Sun reported in 1897, "Hurlburt and Liggett are having the elevator painted… Liggett & Hurlburt are having the big brick painted which will improve its appearance." James Liggett ran a general store in the building. Here are some advertisements in the Utica Sun 1898-99.
James M. Liggett, after crossing half the world, died in September, 1899. His obituary in the Blue Valley Blade on Sept. 29, 1899:
"Mr. James Liggett was well known by all of the older citizens of Seward (lived to be 87 years old) and was held in high estimation as an honorable man. He has been a member of the Baptist Church since early life. He was one of the oldest men in the county and the length of residence here was equaled by few. The grief of his relatives and friends at his decease is tempered by the knowledge that he lived far beyond the allotted time of man. James Liggett was buried in (his daughter's family plot), Seward City Cemetery and was survived by four of his five children: Lena A. Gladwish, Seward; George Liggett, Utica; Martin Liggett, (liveryman and hotel clerk) Broken Bow; Mrs. Elizabeth Leibee, Geneseo, Ill. James Liggett was survived by his third wife, Mrs. Mary Touvenel. (The oldest son of James Liggett, Thomas, did not survive his father. Thomas was listed in the 1880 Constantine, St. Joseph, Michigan Census as a papermaker with two children, William M. age 12, mother from Vermont, and Ella V., age 10). For a number of years past, Mr. Liggett has been in failing health, consequent upon his age, and for sometime past has been unable to leave the house. For about two weeks previous to his death he was confined to his bed, until the last end came peacefully. (Family lore is that he was taken care of by his daughter, Lena Gladwish, at the end of his life.)
Mrs. Mary Liggett moved to Denver, Colorado, with her son, Sweet, in 1906, to live with her daughter, Mrs. Randall. The Blue Valley Blade newspaper reported on August 1st that "the neighbors and immediate friends of Mrs. Mary Liggett gave her a surprise yesterday afternoon by coming and giving her a farewell party before she leaves for her new home in Denver today. The ladies met at Mrs. W. Evans and went to Mrs. Liggett's taking refreshments with them. Mrs. Metz on behalf of the ladies, presented her with a sum of money as a small token of their esteem. Mrs. Liggett is one of the pioneer residents of our town. Space forbids us giving the names of the guests on this occasion."
In 1902, George and his partners, the Hurlburts, fixed up the hall over their new brick Opera House building for lodge and other social purposes. The front of the building was made into a lodge room and in the rear a dining room and kitchen. The newspaper reported that "a large door opens into the Opera House which makes it convenient to confer degree work. The room will be carpeted and when completed will be a neat place for any society that might wish to meet there." The Opera House would become the social center of town, where dances, concerts, and other town events were held. The village post office was also located in the Opera House Building. Eight years later, in 1910, the Utica Sun headlined this story: "Has Bought Building – George Liggett Highest Bidder – Opera House Block sold – $24,000 (auctioned) – speculation as to where the Merchants Bank would move to." Into the place the Merchants Bank had occupied for many years, the First National Bank moved in early May 1910. George Liggett was a director and his son, George Jr., was listed as assistant cashier. George Liggett Senior was also a director for Lincoln Telephone and Telegraph for one year, after it purchased Seward County Telephone Company. In 1912, he, Jacob Severin, and Ray Jones bought the stock G.G. Jones had in the bank.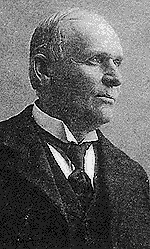 George Liggett (pictured left) was also a partner in Standard, Wilken, and Co., a merchandise/furniture business with the Hurlburts. His business partner and son-in-law, C.G. Hurlburt, was also very successful. The local paper reported in 1908 that he had one of the first cars in town, "a 3-h.p. shaft drive and four cylinders, with a top attached, and cost $2000, purchased in Lincoln, it will carry 5 passengers." The following year, C.G. started his own auto firm, Hunter and Hurlburt (later known as Utica Auto Co.), after purchasing a carload of touring cars in Omaha.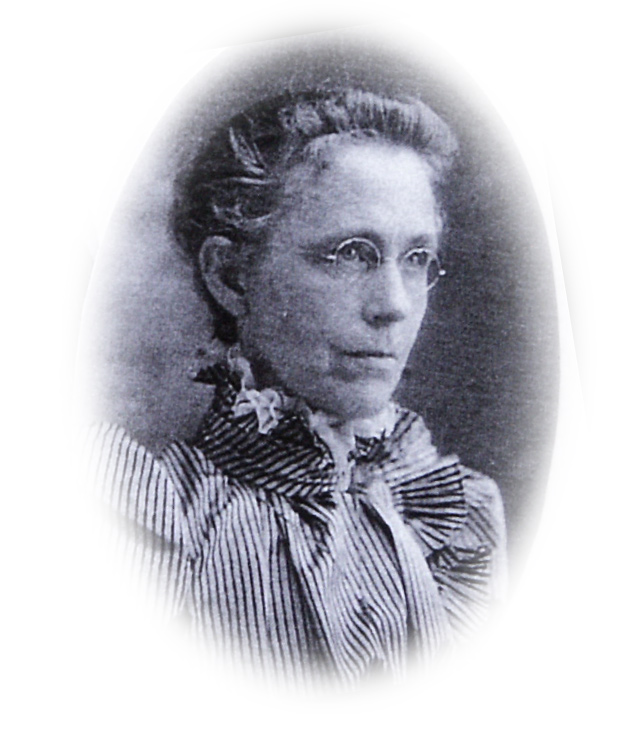 George Liggett also owned a rug factory and a bookbindery. One of his rugs was displayed at the Capital and then moved to the University in Lincoln. His wife, Georgianna Phelps Liggett (pictured left), helped organize the Presbyterian Church in Utica in 1889. George retired in 1912 and they moved to San Diego, California, to be with their older son, James Bela. Two years later, George Liggett returned to Seward just weeks before his death in 1914. His obituary in the Utica Sun states "Mr. George Liggett amassed a considerable fortune and was one of the wealthiest men of Seward County," (with Georgianna as the power behind the throne according to great-grandsons George and Jim).
Georgianna Liggett passed away five years later, on March 29, 1919. Residing in Utica, Nebraska, since 1877, the newspaper article regarding her death was entitled, "Death of Pioneer Lady." She died in her home and funeral services were held at the Presbyterian Church conducted by Rev. Hollingsworth.
Ralph married Nettie Goodbrod and had a son named Gordon. They would join the Utica migration to San Diego where Ralph developed an architectural design business. The City of San Diego has since designated Ralph Hurlburt as a master designer and approved many of his home designs as historic landmarks.
We are not sure who the Mrs. Jane Liggett is mentioned as one of the charter members in the 1939 article below about the Presbyterian Church's 50th anniversary. Greetings from the Hurlburts in San Diego are also noted.
George and Georgianna's youngest son, Cassius George Liggett (who went by the name of George Jr.), continued with the bank, and was promoted to cashier after his father passed away in 1914. That same year he announced that he would be a Republican candidate for the Nebraska State Legislature and won election. Two years later he was elected for a second term. On February 11, 1917, he married Charlotte Zumwinkel, the daughter of Herman Zumwinkel, dealer in "Staple and Fancy Groceries, Queens and Glassware, Boots and Shoes, Hats and Caps, Flour, etc." Known as "Zummy's store" and located near the Liggett bank, Mr. Zumwinkel was known "to reach his hand in and come up with a fistful of candy when you bought a pair of shoes in his store." George and Charlotte were married in a "very quiet ceremony witnessed by the immediate relatives and a very few close friends," at the Lincoln Hotel. "Following the ceremony a five-course luncheon was served." Charlotte was one of the first 15 women that graduated from the University of Nebraska in 1913. The minister for their wedding, Rev. F.A. Stuff, was an instructor when she attended there. She was teacher in the Lincoln high school when she married George Liggett, and was a member of the Seward County Board of Education in 1921. They had three boys: Lee, George Jr., and Ted. The Depression was especially hard on Nebraska but the Liggett family bank survived. George Liggett worked for seven years without pay to keep it open.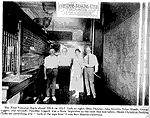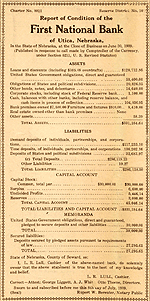 The July 13, 1939 edition of The Utica Sun included a report of the condition of the First National Bank showing $331,184.61 in assets as attested by George Liggett, A.J. White, and Otto Thoene, Directors. His wife, Charlotte, died of cancer the following year. George Liggett was President of the University of Nebraska Board of Regents in 1952 (pictured below) and died in 1964. The classic 1894 bank building with an opera house on the upper level survived the Depression, but was robbed and then badly damaged by tornado that touched down in the middle of town in 1985. It was torn down and a modern facility constructed in it's place. The second saloon built in the 1899, after the first one was torn down, is still there and retains the original fixtures (shown below by his great granddaughter, Jane Liggett, in 2002).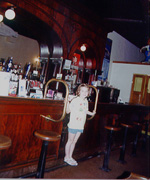 George and Charlotte Liggett's three sons were born and raised in Utica, Nebraska, and graduated from Utica High School. The oldest son, Lee G. Liggett, married Mary Ann Brown in 1943. The couple are the parents of three sons: Lee Brown, Scott Phelps, and James Pride. During World War II, Colonel Lee Liggett served as an Infantry officer at Fort Robinson, Arkansas, and Fort Benjamin, Indiana, before departing for overseas duty in Europe in 1944. There he held various assignments with units of the Third U.S. Army under the command of General George Patton. When Congress passed the Military Selective Service Law of 1948, he served as Major in charge of Procurement and Personnel, handling the administrative duties of the headquarters from August 1948 until being assigned as Deputy State Director the summer of 1967. He was appointed State Director two years later. In 1971 he was given the Legion of Merit, second highest noncombatant award granted to military officers. He has been president of the First National Bank of Utica for over 40 years.
Lee's brother, named after their father, George Hermann Liggett, Jr., was born May 20, 1922. He received an undergraduate degree in business administration from the University of Nebraska and a graduate degree from the University of Wisconsin Graduate School of Banking. He also served in the U. S. Army during World War II, 1942-1946, in the Pacific theater. George Jr. and married Justine Joynt at Westminister Presbyterian Chapel, Lincoln, in October, 1956. Justine is a graduate of Mary Lanning School of Nursing in Hastings and Hastings College. They also had three children: Thomas, Nancy, and Susan. He worked at the First National Bank of Utica for 37 years, retiring as vice president in 1982. The third generation George Liggett of Utica was a member of the Utica American Legion Post 49 and Masonic Lodge AF&AM 96. He was a supporter of Utica Village and school activities, serving as a member of the town board and school board. He was an officer of the Utica Commercial Club, was active in Boy Scout Programs and was an elder of the First Presbyterian Church. He also served on the Southeast Community College Board and was a member of Phi Kappa Psi Fraternity. He passed away at the age of 80 in 2002.
The third son of George Liggett, Ted H., married Lizabeth Lee Shellenberger in 1952. They had two children, David and Mimi. He was a salesman for the Abitibi Corporation and associated with the First National Bank of Utica when he passed away at the age of 47 in 1972. He was a member of the Westminister United Presbyterian Church; B.P.O.E. Lodge No. 80; Ak-Sar-Ben, and Phi Kappa Psi fraternity.
The history of the bank is the history of Utica and continues to be a family business. Of the early busin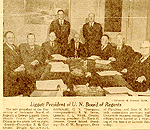 ess fathers, only the name of Liggett has remained almost continuously on the roster of Utica businessmen since the town was created. A July 2002 article in the Seward County Independent quotes a longtime employee, "I've had a lot of older people come in over the years and say they would continue to bank here as long as there was a bank because Mr. Liggett helped them during the Depression.
Lena Gladwish, daughter of James M. Liggett, was the only one of his five children to migrate the entire distance with him across America. She and her husband, JW (pictured left on Decoration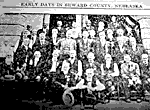 Day in Seward in 1913; in the front row with the hat), cared for him in his old age and buried him in her family plot in Seward. Her oldest son, Charles, married Mary Slonecker, and they had one son, Vern, in 1890. Lena Gladwish died Oct. 16, 1907. Her grandson, Vern, married Elma Dahl, daughter of Dora and Jens P. Dahl, in 1921. Daughter, Lucille, married Ray Lemon in 1901.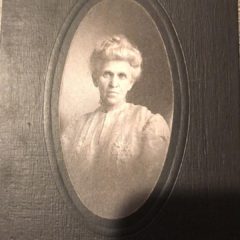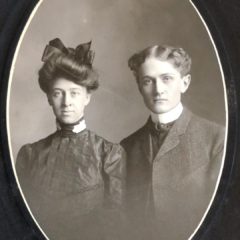 Cousins Lee Liggett and Gloria Marshall Borgrink have happy memories of visiting the Gladwish farm. Gloria 's parents, both Nebraskans, migrated out to Washington in the 30s. Her grandmother, Nancy McComb Marshall, lived in Seward so they went back to see her about one every four years during the time she was growing up. Gloria first started going out to the Gladwish farm when she was about 5 or 6. "It was a rather low white house (as I remember) just off a main country road. (Probably the one between Seward and Tamora). I kind of remember that the road was paved. As you drove in, there was a circle of driveway around some evergreen trees or possibly spirea (bridal wreath). The house was to the left of that and the barn and animal pens to the right. Just to the right of the house were the windmill and a springhouse. The house had an upstairs, which was where their daughter's room was. The downstairs had a living room to the far left, with the stairs going up from there, a dining room and a bedroom or two in the middle, and finally the kitchen. There was a big yard with lots of trees in front of the house and a large garden to the left. I used to be allowed to help Grandma Dahl (everyone called Elma's mother Grandma Dahl) in the garden, doing things like picking beans and tomatoes and stuff. I also got to help snap the beans and shell peas, feed the chickens and gather eggs which was the ultimate fun for a little kid. Grandma Dahl lived with them at that point. I remember Vern and Elma's daughter was probably in her late teens or possibly early 20s. She had a job somewhere in town as a secretary or a bookkeeper and went off to work every day. Vern did the farm chores and Elma and Grandma Dahl took care of the house and the chickens."
"The first years I was there the house had no indoor plumbing and, I don't believe there was electricity, though I am not sure about the latter. I do remember the outhouse in back of the house because I was deathly afraid of spiders and hated to go out there, just in case one had woven it's web across the door. I believe they added an indoor bathroom sometime in the
50s. The sink in the kitchen did have water. There was a pump, which connected to the windmill. They kept their food cool in the springhouse, which was just a step outside the kitchen door. It had cool water running through it and seemed to do a pretty good job. They probably also had an ice box but it didn't make any great impression on me because we also had one. I think they must have sold milk from the cows because I seem to remember a truck coming to pick it up. Until then it was left in the springhouse to keep cool. The milk was put into metal cans which were set in the cold water running through the springhouse. I remember them separating cream from the milk and making butter. Buttermilk was the liquid left after the butter had been churned. It was nothing at all like the cultured buttermilk available in the stores today. The milk was much richer and creamier than what is available in the stores today. Since it was not homogenized it had to be shaken up every time it was used…or else the cream would be skimmed off the top for household use. A Nebraska treat was to use the very very heavy cream (which was almost a solid) to spread on fresh bread and then shake sugar over it. It sounds awful to me now, but then I loved it."
"I particularly liked going out there during harvest time because there would be large groups of threshers who came in to help. As is customary in the Midwest, Elma and Grandma Dahl (and their daughter, if she were there) would all prepare a large midday meal for the men (they were all men since it was considered men's work). Any other woman who happened to be there would pitch in and help. Serving the threshers a good meal was most important and somewhat of a status symbol among farm wives. There was always plenty of meat and potatoes, and gravy and lots of vegetables from their garden. Fried chicken was a favorite. The vegetables were usually corn, tomatoes, and probably green beans. There was always homemade bread with homemade jam and jelly and fresh churned butter to slather over it. There would also be homemade pickles and various types of relishes. For dessert there was almost always a choice of pie probably made with either fresh fruit from the current crop on the farm or canned fruit from the year before. Occasionally, there was a homemade cake. There were always cookies around, but I don't remember them being served to the threshers. And, being a farm, there was always plenty of whipped cream."
"There was no television so people sat around and talked in the evenings. They may have played games but that would have been pretty much beyond me. They probably did play cards. I do remember the men gathering around the table in the dining room doing something or other. The most interesting thing (to me) in the dining room was a large white stuffed owl. I think I remember someone telling me that it had been a pet. However, that may simply have been a tale and, being a gullible child, I believed it."
"Both Vern and Elma were really nice to me. My memory of Vern was that he was of average height (about the same as my Dad who was maybe 5'8") and had dark, thinning hair. He always wore some sort of hat outside. I remember him taking me out to see the animals and warning me to stay away from the bull. (Like I was going to go anywhere near that beast!) I watched him milk the cows and still remember the sound of the milk squirting into the bucket as well as the warm sweet smell of it. I'm pretty sure they also raised a few pigs. I have a vague memory of "helping" Vern "slop the hogs" after Elma and Grandma Dahl cleaned up after dinner (midday) or supper (evening). Basically, the hogs got all the leftovers since they would eat just about anything. I'm sure they got other food as well, but they loved things such as watermelon rind, vegetable leaves, etc., even sour milk. I remember Elma as a tall, dark haired woman, who always had a smile on her face and always had time for me, no matter how busy she was. She and my mother shared the same birthday and always seemed very close. They exchanged letters as long as my mother was alive. Grandma Dahl was fun and sort of "everyone's grandmother." (My own grandmother was rather formal so it was fun to be with Grandma Dahl. She seemed tiny, like a doll, so Grandma Dahl suited her.)"
I thought Vern and Elma's daughter was neat and although she was nice to me, I was rather in awe of her. She was a GROWN UP! She had a job. She could drive a car. I think she even knew how to drive the tractor! Since she was an only child she probably learned more of the farm basics and machinery than most farm daughters did. She later married a farmer from Seward County and had three children."