To: Illinois in 1854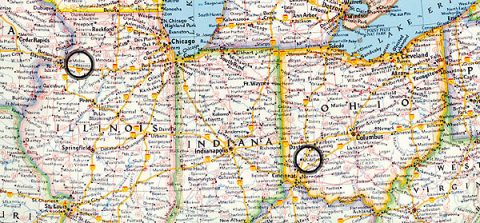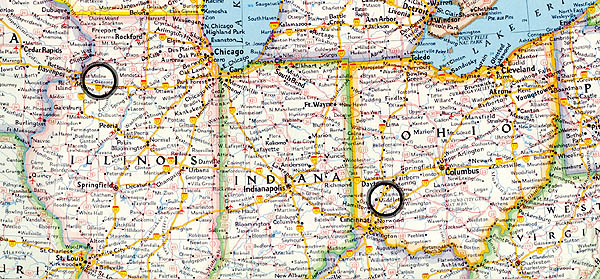 When the railroad went through Illinois in 1854, James M. Liggett moved his family further northwest, across Indiana, to Mercer County, Illinois, on the Mississippi River across from Iowa. James was 42 and his youngest child, George, was only 7. A year later, the Liggetts moved to the next county, Henry County, named for Patrick Henry. They may have lived in Osco Township or Geneseo (pictured at right, 1909).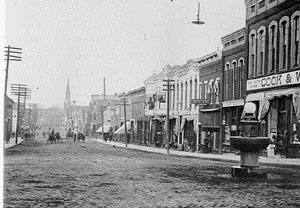 The area was a stage coach stop in the 1830s and settled by a group of Protestant ministers who organized the Connecticut Association to settle the Midwest when they heard Catholic settlers were moving there. It cost $90 per person for the trip along the east coast by rail to Pennsylvania, by canal to Pittsburgh, down the Ohio River to the Mississippi River, up the Illinois River to Peoria then across the prairie to Henry County. The land was very fertile and good for farming. There were also coalmines north of Kewanee giving many people employment.
The coming of the railroad in the 1850s brought an end to the frontier in Illinois, as advancements in agriculture such as John Deere's steel plow and Cyrus McCormick's mass produced reaper led to more efficient farming. Since James Liggett listed his occupation in both the 1850 and 1880 Census as a weaver, it is likely that this was his profession while in Illinois, perhaps along with farming. The Lakeview Museum of Arts and Sciences in Peoria, Illinois features the Glick Collection of coverlets made when he was living there:
Coverlets are functional and artistic woven materials generally used to cover a bed. Many weavers used intricate patterns and colored materials to create attractive and colorful textiles… Coverlet weaving was popular in Germany and Great Britain. German and British immigrants brought the technique with them to the United States. Most of the immigrant weavers settled in areas with a large population of immigrants of their ethnicity. This population formed a potential market for the weaver's coverlets. Illinois became home to a number of coverlet weavers …primarily during the 1850s. …Many weavers produced coverlets during the winter months, while holding another occupation such as farming during the other seasons.
Three of James Liggett's children met and married their spouses in Henry County, Illinois. After living there five years, his oldest child, Lena, married John W. Gladwish. John was born in Hastings, Sussex County, England, on May 6, 1828. When he was seven years of age, John came to Hudson, Ohio, with his mother and stepfather. At Cleveland, Ohio, he learned the carpenter trade, serving for three years as an apprentice with Hurd, Warner & Company, Architects and Builders. John (pictured left) and Lena Gladwish's first child, Charles, was born the following year, in 1860.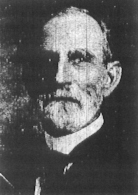 The Liggetts lived in Illinois during the Civil War when the state sent 259,092 men to the cause. James Liggett's son, Martin, and possibly, Thomas, fought for the Union. Son-in-law, John Gladwish enlisted when the war began, on October 4th, 1861, in Co. D, 3rd Regiment of the Missouri Volunteers. The following January, John was appointed to the position of Second Sergeant and later promoted to First Sergeant of Company D. He served his country three years and eighteen days. On October 22, 1864, he was mustered out at the St. Louis, Mo., receiving an honorable discharge from the army of the U.S.A. From St. Louis he returned home to his wife, Lena.
In 1865, when the Civil War ended and after President Lincoln was assassinated, a second son, named for James M. Liggett, was born to John and Lena Gladwish. This same year, two other children of James Liggett: Elizabeth and George, had a double wedding on September 20, 1865. Elizabeth married Jacob Leibee and George married Georgianna Phelps, when she was 16 years old.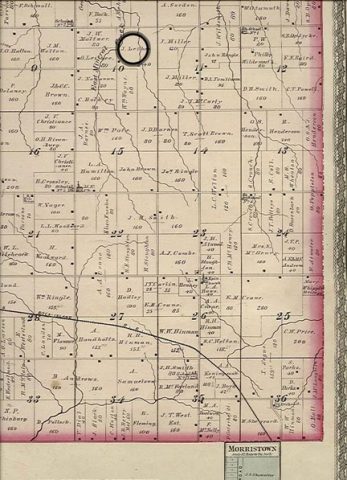 Elizabeth Liggett's husband, Jacob Leibee, was a well-known Geneseo stockman, and the twelfth child of George and Margaret Deem Leibee, who came to Geneseo in 1856. George Leibee was a native of Kentucky and at one time was the owner of twelve hundred acres of land in Henry County. He gave each of his sons a farm. Jacob's sister, Eleanora, married Alonzo Monesmith, the City Marshal of Geneseo. The 341 acre home farm of Jacob Leibee's parents, pictured below, was eight miles southwest of town.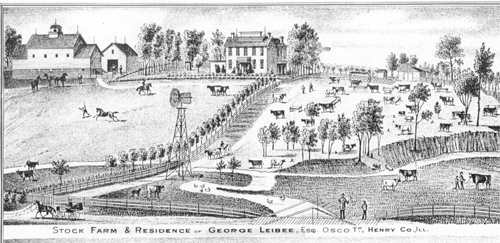 Jacob, and his wife, Elizabeth Liggett Leibee, had four children: George Edwin who died in infancy, Minnie Bell who died at age 11, Maggie May who died as a young woman, and Roy W. Leibee. Jacob Leibee was a cattle buyer for many years, at one time being in partnership with William Godfrey. Elizabeth Liggett Leibee, daughter of James M. Liggett, passed away at her home in Geneseo on May 9, 1918, aged 73 years and three months. Her obituary in The Geneseo Republic said:
The funeral services of the late Mrs. Jacob Leibee (Elizabeth Liggett), of Geneseo, were held at her late residence on Sunday afternoon at 2:30 o'clock. A male quartet composed of C.C. Fehr, R.J. Struthers, Charles and Will Lieberknecht sang two selections. Rev. Wm. Lord McKinney, Minister of the Unitarian Church, preached the sermon. The pallbearers were William Hoeft, Jerome Arnett, Ed Ole, Charles Sickler, William Farber and Palmer Stafford. The Obituary and poem written and read by Rev. Wm. Lord McKinney at the service follows:

Mrs. Leibee was a loving mother and a faithful and devoted wife. Her family and friends held a high place in her affections. She lived for them. The gentle and affectionate side of her nature was seen in her love for flowers, which seemed as one of God's most gracious gifts. Her love for music gave evidence of the deep appreciation of her soul for the nobler things of life. After a long and useful life she has been summoned into that larger life where released from suffering and distress, the soul lives in fuller understanding of the will of God. To the bereaved husband I would say that the joyous memories of the past and the promise of the future would help sustain him in his great loss. To the well beloved son I would say that the sense of duty done should strengthen him to bear the loss of a loving mother. To the other members of this family circle, let me say that we weep for one we loved and who has now gone before into the great beyond, but let us realize that we see but the dark side of this sorrow and that for her there remains the glories of immortal life. Therefore, as Christians and as believers in the Great realities of religion, let us rejoice because of our faith in the great love and mercy of our heavenly Father. 
Jacob and Elizabeth's son, Roy Leibee, married Helen Leming and had three children: Kenneth W., Marjorie, and James. Jacob Leibee moved to be near his son, Roy, in Santa Monica, CA, two years after Elizabeth died. He lived to age 90 when he died at his home on April 24, 1935. Roy died five years after his father, May 11, 1940. They are all laid to rest together at the Oak Wood Cemetery in Geneseo, Illinois.
As mentioned earlier, the youngest child of James M. Liggett, George Liggett (my great great grandfather, pictured left), married Georgianna Phelps (pictured below) on September 20, 1865. Georgianna was born in January 1849 to Bela and Henrietta Cherry Phelps. The Phelps, one from Ohio and the other from New York, were married in 1845.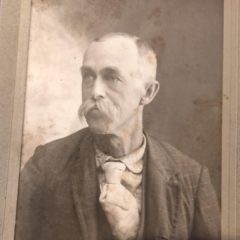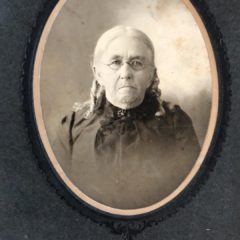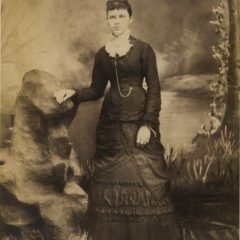 A biography of Georgianna's brother, William Phelps, in the Compendium of History Reminiscence and Biography of Nebraska (1912) gives some information about her family, who would follow her and her husband, George Liggett, to Nebraska.
A resident of Merrick County, Nebraska for the past twenty-six years, the gentleman herein named (William Phelps) has gained the esteem and confidence of all with whom he has come in contact by his industrious habits and honesty of dealing with his fellow men. He was born in Henry County, Illinois, May 8, 1851, and was second of four children in the family of Bela and Henrietta (Cherry) Phelps who had two sons and two daughters. Both of Mr. Phelps parents had been married previous to their marriage – the father to Henrietta Sivley, who died and who was the mother of four children. Our subject's mother at the time of her marriage to Bela Phelps was the widow of William Maxwell by whom she had one child. William Phelps was born on the farm where he grew up to his young manhood and received such advantages in schooling, etc., as Henry County afforded; and December 12, 1872, he was married to Miss Mary A. Sidebottom, a native of Illinois, the Sidebottom family being of the pioneers of Henry County, and at their home the daughter was married. In 1873 William purchased a farm in Fremont County, Iowa, where he lived until coming to Merrick County, Nebraska, with his wife and four children. He purchased a farm of one hundred and sixty acres two miles west of Central City which is well equipped, and where he still resides. Mr. Phelps has a good orchard on his farm and raises a fine variety of apples. Joseph Phelps, a half-brother, had come to Merrick County in 1869 and Father (Bela) Phelps and wife (Henrietta) came to visit him in 1883; and after the son William and family came to Merrick County.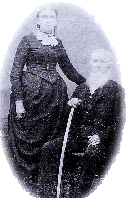 William's parents, Bela and Henrietta Phelps (pictured left) also moved to Nebraska. They made their home on the farm of William's brother, James, and family. James Phelps came to Merrick County in 1884 and moved to Seward County, Nebraska in 1888. Father (Bela) Phelps died February 20, 1899, in his ninety-first year. Mother (Henrietta) Phelps died September 7, 1907, in her eighty-fourth year. Our subject, William Phelps, and his wife, Mary Sidebottom, have had five children born to them, four born in Iowa, and one in Merrick County, Nebraska: Lily, Samuel, Claudie, who reside under the parental roof; Walter, who died in Merrick County in 1884, and Effie, who lives at home. Mr. And Mrs. William Phelps, whilst not of the very first settlers in Merrick County, have assisted in making this portion of Nebraska a prosperous and successful community, using their best efforts for the betterment of their home and county, and they have the respect and esteem of many friends.
My grandfather saved the October 12, 1939 edition of The Utica Sun (Nebraska) with the obituary of Georgianna's brother, James Phelps, who died on Oct. 1 at the age of 83,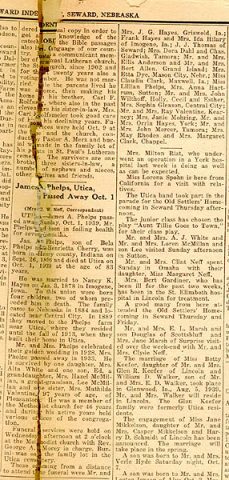 James Phelps was married to Nancy K. Hayes on January 3, 1878 in Imogene, Iowa. To this union was born four children, two of whom preceded him in death. The family came to Nebraska in 1884 and located near Central City. In 1889 they moved to the Phelps farm near Utica, where they resided until the fall of 1913, when they built their home in Utica. Mr. and Mrs. James Phelps celebrated their golden wedding in 1928. Mrs. Phelps passed away in 1933. James is survived by one daughter, Mrs. Alta White, and one son, Ed, a granddaughter, Mrs. Hazel McMillan, a great grandson, Lee McMillan, and a (half) sister, Mrs. Mathilda Valentine, 97 years of age of Pleasanton. James Phelps was a member of the Methodist Church for 46 years and during his active years held various offices of his congregation… Burial was on the family lot in the Utica Cemetery. Those coming from a distance to attend the funeral were (a number of people listed including Miss Dora Dahl and Charles Gladwish, Tamora, and Miss Lillian Phelps, Sutton).
The Liggetts seemed to have gone back to Illinois to visit relatives as both of these pictures of my great-grandfather was taken in Geneseo after the family moved to NE.