Ralph E. Hurlburt, Master Designer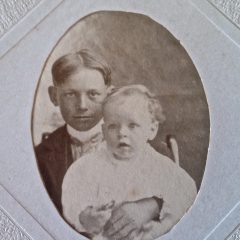 I have had a lifelong interest in art and architecture. I wrote a biography of Harold G. Stoner, an architect of Period Revival style homes where I live in San Francisco. I have always had an attraction to these romantic and art-filled Spanish Revival and Storybook designs from the 1920s. I was surprised to learn a few years ago from Alexandra Wallace, an excellent researcher at Legacy106, that the nephew of my great grandfather, Ralph Everett Hurlburt (1888-1942), had been creating the same style of homes in the same time period in San Diego – where I visited my grandparents, great grandparents, lived while in college, and got married. My Liggett relatives had told me he was involved in real estate and insurance, but no one ever spoke of his architectural design talent. I subsequently visited San Diego to take pictures of  his designs. One of the historic preservation volunteers I met on the trip, Katherine Hon, has kindly written an article about my research of Ralph E. Hurlburt:  Enduring Legacy.
The City of San Diego considers him a Master Architectural Designer: "an important individual whose specific achievements and contributions to the economic, architectural and aesthetic development in San Diego are significant."
Excerpts from the City of San Diego Historic Resources Board 2011 Biographies of Established Masters and the Family Biography written by Ralph's father, Clifford Hurlburt, provide a glimpse of who Ralph Hurlburt and his family were and achieved:
Ralph Everett Hurlburt was born in 1888 in Utica, Nebraska located in Seward County in Nebraska. His grandparents, George Frederick and Nancy Elizabeth Hurlburt, came from Harpersville, New York in Broom County. Ralph's grandfather eventually moved the whole family to Northhampton, Peoria County, Illinois to develop a farm. After a failed attempt in the farming industry, George moved the family once more to Coal Hollow, Bartonville, Illinois here he took up coal mining and owned a small farm. Clifford's family history in 1927 included this recollection, "I look back upon my boyhood days in old Coal Hollow, where we lived until I was thirteen years old and think what a carefree time we boys had. Father and mother were in very moderate circumstances; father was an excellent father and good provider and mother was a real mother and a most excellent cook." George trained his sons, Clifford, Lewis, and Arthur how to construct solid buildings and they helped their father move to Nebraska to build a new homestead to farm wheat, about five miles south of Utica. Clifford wrote, "In 1872 we moved overland by teams to Nebraska and settled on the old homestead, where we stayed for ten years. The country was new and a wonderful place for boys. We worked hard, but played just as hard. We lived near where Beaver Creek and Blue River came together and fishing, hunting, and swimming was where we got busy when work was done. Father was a good general with his boys and never told them more than they could do if they applied themselves as they should." A 1922 history of San Diego by Clarence Alan McGrew includes a biography of the Hurlburts, noting that Clifford "as a youth became very prolific in penmanship, and he is still a master of that style, probably one of the finest penmen in So. CA."
Utica was an important railroad station along the stock and grain shipping route between Seward and York. George Hurlburt built a grain elevator at the railroad head and by 1883, his business had evolved into a partnership called Liggett, Hurlburt, and Co."The Hurlburt men then invested in a general store in Utica, Nebraska profiting $4000 the first year. They reinvested this money into local farms and earned enough money to start a bank and holding company." My great great grandfather, George Liggett, founded the Merchant's bank in 1883, partnering with Ralph's grandfather, George Hurlburt, and his father, Clifford Hurlburt. Clifford married George Liggett's daughter, Etta, in 1887. Their son, Ralph, was born July 24, 1888. Clifford wrote, "Ralph was left without a mother at the early age of three years and seven months and went to live with his grandparents, Mr. and Mrs. George Liggett. Later he was brought home to live with his father and his aunt Nancy in the old home that was his birthplace. Later when Nancy married, he and his father remained in the old home for a short time." Clifford had one of Utica's first cars and started a sales company in 1909, purchasing a train car full of touring automobiles in Omaha to resell in Utica as Hunter and Hurlburt and later the Utica Auto Co.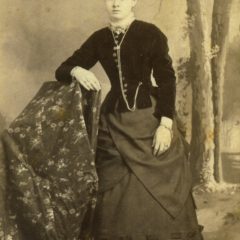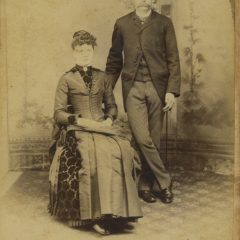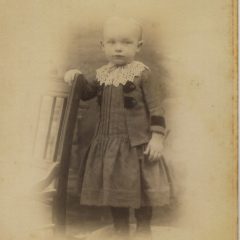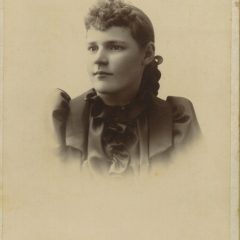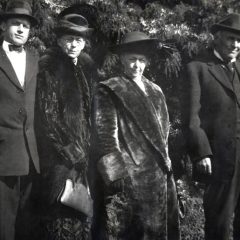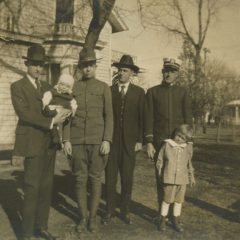 Surrounded by pioneer builders, farmers and businessmen, Ralph grew up "with a strong business sense, knowledge of construction, cost estimating, financing, and loan transactions. He started out as an apprentice with Lincoln National Bank which he used to improve the family business," setting up books, bank drafts, promissory notes, and other legal documents that he copied for use at the Merchant's Bank.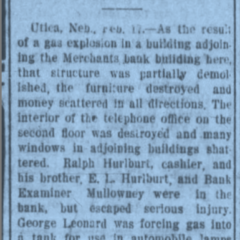 On Feb. 17, 1909, Ralph and his brother, E.L., escaped serious injury when there was a gas explosion in the building next to the bank (see article left). Later that year, he married Nettie Goodbrod. Clifford writes, "After a trip to the Pacific coast, taking in Seattle, San Francisco, Los Angeles, and San Diego, they arrived home and started housekeeping in the old home that had been modernized for them. He was later deeded the old home and he soon procured approval of his father to trade the old home, which he traded for land, doing real well. This was a starter in exchanging and trading which he cultivated and proved very successful at." Ralph worked his way up to bank cashier by 1915 and left to study one year in Racine, WI and two in Omaha, NE before graduating from a school in York, NE. He was a member of the Masonic Lodge in Utica. Nettie and Ralph Hurlburt had a son, George Gordon Hurlburt, born May 27, 1914 in Utica, NE.
Ralph joined the Navy at the outbreak of WWI and earned the rank of Ensign. In 1916, Ralph and his family relocated to San Diego. Ralph's father, Clifford, joined him after settling the estate of his father, George Hurlburt, to invest in securities and "enjoy this splendid southern country." Ralph and his uncle, Arthur C. Hurlburt, renovated the Mathew Sherman home into the Sherman apartments once they arrived in San Diego, which his father described as "a very fine place, where we all lived for about three years." Picture below may be the Sherman Apts., as it is the address in Sherman Heights listed on Ralph's WWI draft registration.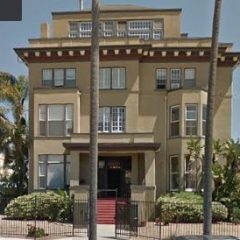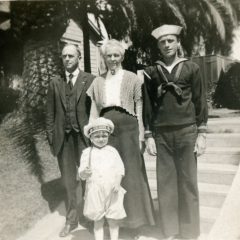 San Diego architectural historian, Michael Good, surmises that it is "likely Hurlburt learned the building trades from his uncle, J.B. Liggett and he might have learned about home design from J.B. Liggett's architect partner, Louis A. Stelzer. By the time he registered for the draft in 1917, Hurlburt was as general contractor. He applied for officer training, which he received in the Panama-California buildings in Balboa Park. Like many young recruits in San Diego, he learned about Spanish Colonial architecture by living in it."
In 1920 Ralph was listed as a building contractor, real estate agent, realtor, real estate sales, and partner in the firm of Hurlburt and Tifal, Architectural Designers and Realtors. Originally involved with real estate financing and law, Hurlburt had shifted to architectural design. Early in his building career, Hurlburt partnered with builder Charles H. Tifal, a partnership that lasted until 1942.
Although never listed as an architect, Hurlburt was responsible for designing numerous homes in the La Mesa and San Diego areas. He published a promotional booklet in 1925 with Charles Tifal entitled "Distinctive Homes," with a variety of home designs which remain as some of San Diego's outstanding architectural landmarks.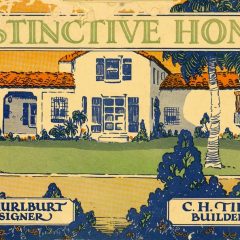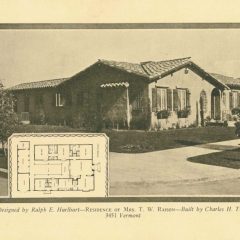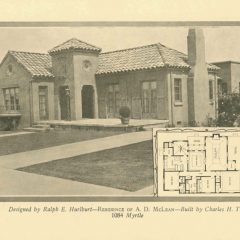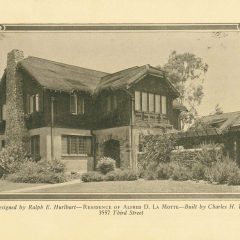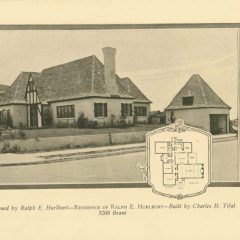 The Hurlburt design on St. James Place was offered for sale in 1925 for $30,000. Included in the 2019 Mission Hills Historic Home Tour, the brochure included an original ad for this home, "This large exclusive home is located in the most desirable section of Mission Hills. There are 8 rooms, besides the large tile vestibule; 8 baths, basement, electric heating system throughout, heavy clear oak floors, beautiful fireplace, sterling silver Crystal Lighting Fixtures, Tiffany walls, hand decorated woodwork, leaded art glass windows, built-in refrigerator iced from outside, maid's quarters, double garage, laundry, automatic sprinklers, lawn flowers, shrubbery, and many other features. All of this has required much thought, time, and careful planning and patience, and it's a real home. We are selling at an absolute bargain. …" The tour brochure went on to explain that "Tiffany walls produced visual warmth and texture.  They were created by applying multiple shades and tints of paint to produce an iridescent, mottled affect."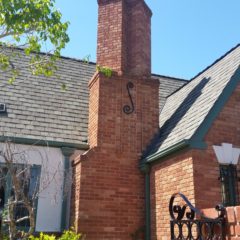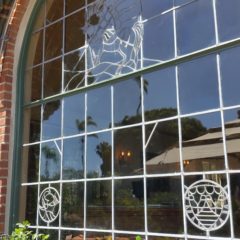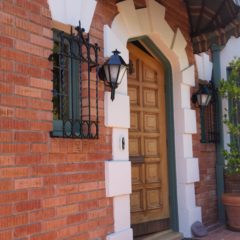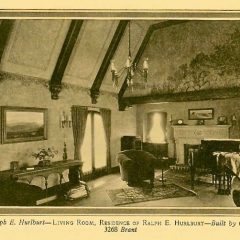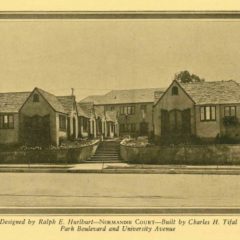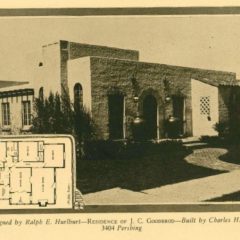 With a myriad of architectural styles ranging from Spanish Eclectic, English Tudor Revival, English Cottage, French Eclectic, Arts and Crafts, Colonial Revival, Italian Renaissance, Storybook, and variants with North African and Amercan Pueblo territorial design elements, Hurlburt primarily designed high-end custom residences in the Kensington, the Marston Hills subdivision, Mission Hills, Point Loma, and Uptown Communities of San Diego. He was a member of the San Diego Realty Board and was active in many sports as highlighted by his father: "Ralph was very fond of outdoor games such as baseball, tennis and golf. He was in the NE State Baseball League. In tennis he and his partner held the double championship in the City of San Diego for four years and in 1924, they won the San Diego County tennis championship doubles." With his death at the age of 55 in 1942, his obituary noted a career as a banker, real estate agent, and insurance salesman, but no mention of his design work.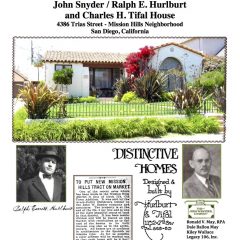 After being in business together in Utica, NE, the Hurlburts and Liggetts collaborated on at least one property in San Diego at 4386 Trias Ave, which has been deemed an excellent example of a Spanish Eclectic home designed by Ralph Hurlburt. Built in 1926, key style elements identified by Legacy106 include: a round decorative iron attic roof vent in one or more gable ends; a large arched front living-room window with single or multi-pane glazing; hand hewn oversized lintel detail on the front porch; exposed truss and open beam in the great room ceiling, and adjacent horizontal beam in the living room elaborated with decorative carving and painted design. It is one of a row of Hurlburt designs at the end of the historic Ft. Stockton Line Historic District at Trias St. and Fort Stockton Dr. commissioned by the John W. Snyder Co., "who aligned himself with exceptional architects and builders in San Diego, such as Hurlburt and Tifal. … to appeal to the city's elite citizens." The historic report by Legacy106 of this home further notes that the design standards and minimum building cost restrictions ensured high-class development in the tract, and thus contributed to the overall economic development of the area.
Ralph's aunt, Nancy Hurlburt Nelson, lived in the home from 1927-1929. Ralph owned the house in April 1930 and between 1935 and 1941, but apparently never lived there. Ownership was transferred to his father, Clifford, at the end of 1930. George Liggett, Ralph's uncle, was listed as the property owner six months later, July 29, 1931. Ownership went back to Ralph and his wife, Nettie, in 1935. The entire time the Hurlburts were living at 3268 Brant St. George and Charlotte Liggett often traveled between Utica and San Diego, and may have lived in San Diego for short periods, but are not listed as having a specific address in city directories. Jacob Goodbrod, possibly the brother of Ralph's wife, lived there with his wife, Dea, from 1931-1934 and 1936-1941. Dea Goodbrod worked for Ralph's real estate business as a rental agent, department manager, and saleswoman for 20 years. The San Diego Union and Evening Tribune papers feature many articles in the society section about parties co-hosted by Dea Goodbrod and Nettie Hurlburt at 4386 Trias and 3268 Brant Ave. Guests included the wives of Charles Tifal, JB Liggett, and the prominent Southern California architect, Clifford May. In 1943, Jacob and Dea moved to 3418 Park Blvd., one block from Ralph's uncle and my great grandfather, James Bela Liggett, who lived at 3510 Park Blvd.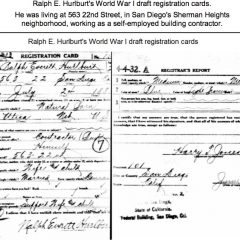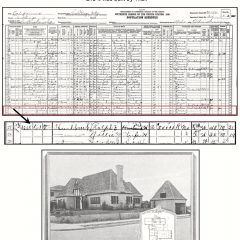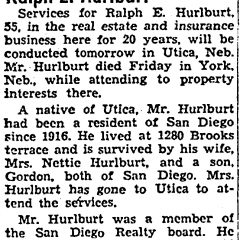 Notable Works:
HRB #464 – The Wonder House of Stone (4386 Adams Avenue) built in 1926 was the architectural focal point of the Talmadge Park development. It features a turreted entry and a dramatic living room with Juliet balcony and hand painted mural.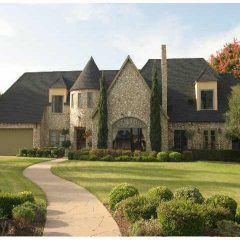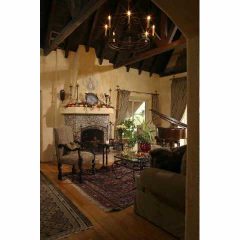 HRB #523 – James C. & Lillie Byers/Ralph E. Hurlburt House (4230 Arguello Street)
HRB #534 – The Frank H. & Margaret Burton/Milton P. Sessions House (1271 Brookes Terrace)
HRB #613 – Alfred LaMotte/Hurlburt and Tifal House (3557 Third Avenue)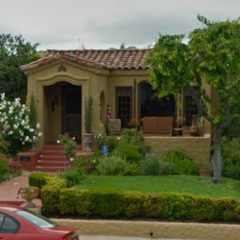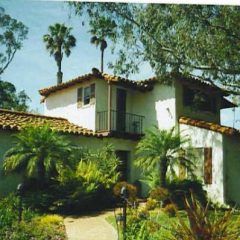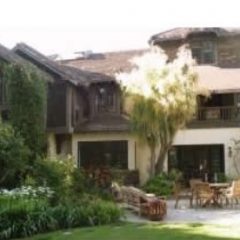 HRB #697 – Edwin and Rose Emerson/Hurlburt and Tifal House (2645 28th Street)
HRB# 824 ‐ Franklin and Helen Boulter/Martin V. Melhorn House
HRB# 906‐ John Snyder/Ralph E. Hurlburt and Charles H. Tifal Spec House #1
HRB# 929‐ Ralph Hurlburt/ Alexander Schreiber Spec House # 1
HRB#933‐ John Snyder/Ralph E. Hurlburt and Charles H. Tifal Spec House #2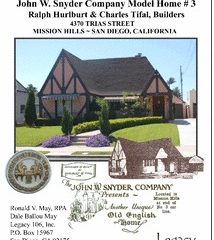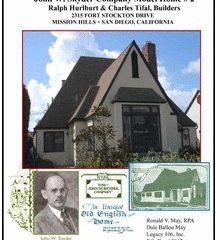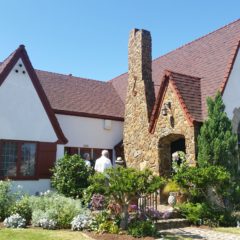 Hurlburt's design at 2315 Ft. Stockton received historic designation for being one the most unique and notable examples of his Storybook style with Tudor Revival, French Eclectic and cottage elements. Legacy106 notes that the house features a very high, steeply pitched hipped roof with a forward-projecting steeply pitched front gable and clipped eaves. Exterior walls are slightly textured stucco and comprise only the lower third of building. A large multi-light leaded glass bay window under a small shed roof sits over a brick base on the gable end, beneath a tall, narrow attic vent. The tall clinker brick chimney is indicative of the Storybook style. The house was featured in the 2019 Annual Mission Hills Historic Home Tour. The tour brochure noted that "it was the second of three built in the Tudor Revival style at this location. To great visual effect, the three served as model homes for this one-block development by the John W. Snyder Co.  Clustering the three Tudor houses at a corner allowed for adjoining backyards. People felt as though they had been transported to an old English village … In CA Tudor Revival architecture's popularity peaked in the 1920s, evoking an aura of historical permanence into newly built neighborhoods. Its elements originated in 16th century England, but in CA, the style became associated with Hollywood and the silent film industry, powerful influences that increased and spread its popularity. The whimsical and romantic characterizations of a time long forgotten appealed to many, but the mid-1930s, demand for Tudor Revival had vanished. …" Ralph Hurlburt seemed to enjoy creating unique chimneys, fireplaces, and entrances for each of his Tudor designs.
The Guilford Whitney House designed by Ralph Hurlburt in 1926 for the owners of the Whitney Department Store which later became Walker Scott Department Store.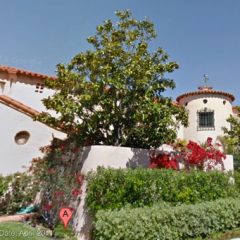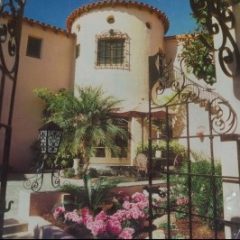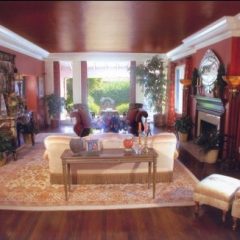 Described as one of the "unsung geniuses and all-but-unknown visionaries" in San Diego, here are more homes by Ralph Hurlburt: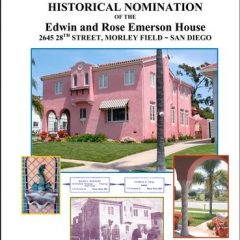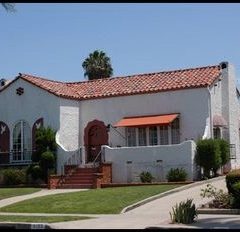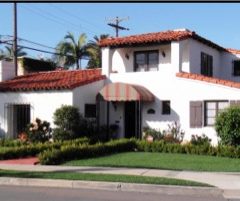 The Emerson house on 28th St. description by Legacy106: "masterfully designed Spanish Eclectic 2-story house with strong Italian Renaissance influences displays a harmonious blend of architectural design motifs that fit well into the neighborhood along Balboa Park."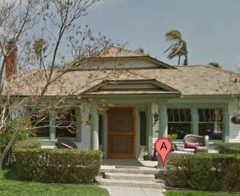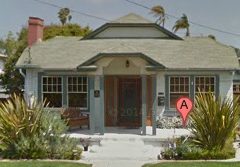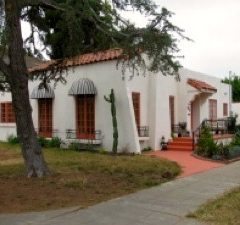 The Colonial Revival Cottage styles with Craftsman influences at 3917 and 3907 Hawk St. have historic designation and are among a group of four speculation houses Hurlburt designed on lots he purchased in 1919. The cottages feature a symmetrical facade, shiplap siding, a jerkenhead-style roof with boxed eaves, a portico-style front porch with squared posts, a wood front door with sidelights, and adjacent pairs of multi-paned windows. Hurlburt's 1924 Spanish Colonial Revival design at 2925 Cedar St. received historic designation in 2016 as an example of his "remarkable work". It features a clay tile-covered gable roof, a main entry with door hood and stuccoed corbels, and several wooden casement windows.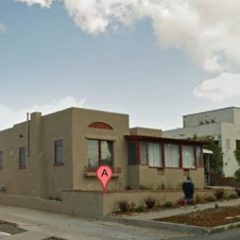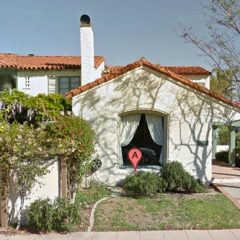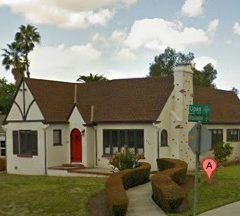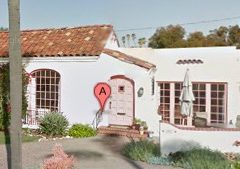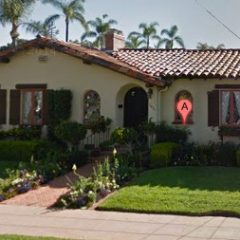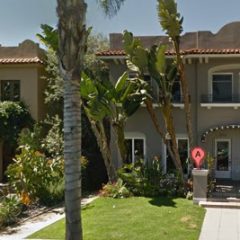 Legacy106 describes the apartments at 3750 Fourth St. as a "blend of Spanish, Craftsman, and Italian Renaissance motifs. The roof parapet displays several Mission style arches and Spanish red clay tile visor roofs, which shield direct sunlight from the upstairs windows. Wrought iron balconets protect double hung windows and French doors. Both entry doors are surrounded with sculpted stucco arches. Italian Renaissance style porch columns are present on one apartment."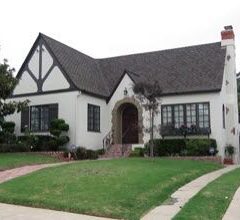 More from the Distinctive Homes Brochure: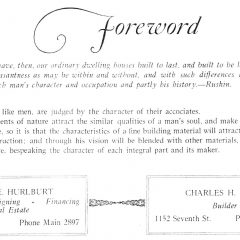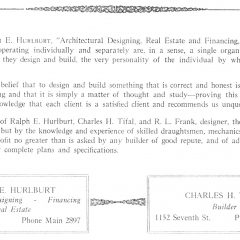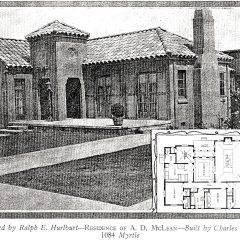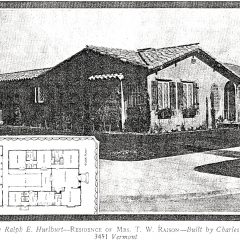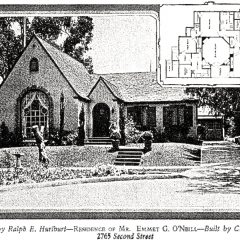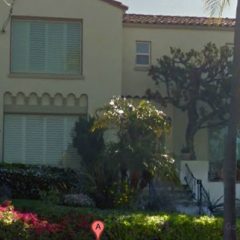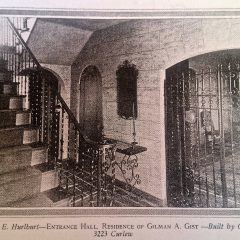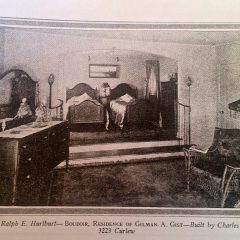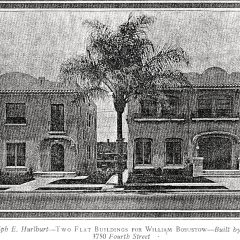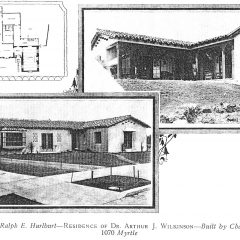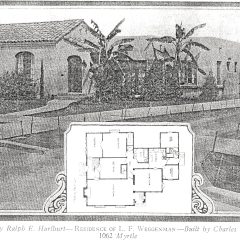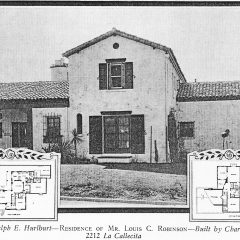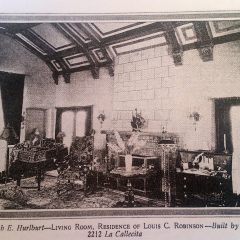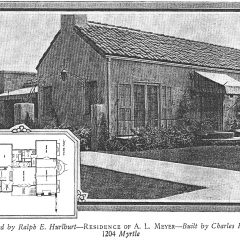 The Louis C. Robinson House at 2212 La Callecita (also pictured below) is considered an excellent example of a Spanish Eclectic style by Hurlburt. Legacy106 notes: "This two-story presents cross-gables, massive corbelled porch posts, wrought iron grilles and balconets, and various casement windows and French doors. This elegant house exhibits open beam, vaulted ceilings with hand painted decorative elements and rusticated stucco work down the wall of the mantle. Hurlburt designed this house to have a 9-foot tall bay window and several pairs of French doors to allow light in at several times of day." This home received historic designation in Nov. 2018.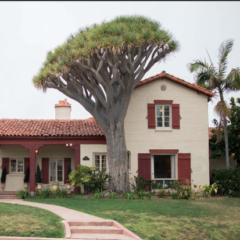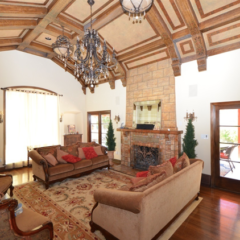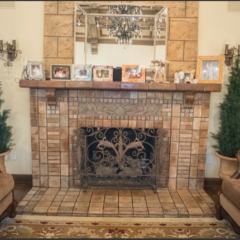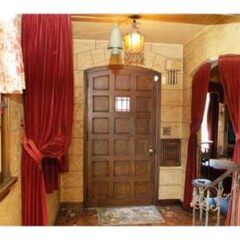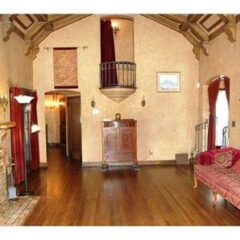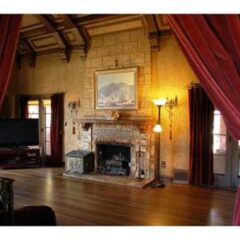 Legacy106 description of the A.L. Meyer House at 1204 Myrtle Way: "This single-story, side gable Spanish fired red clay roof tile and rear flat roof home is a similar mix of Spanish and Pueblo style architecture found at 1062 Myrtle. This design exhibits pairs of French doors that flank the slightly off-center living room entry. Shutters, wrought iron balconets, and canvas awnings are supported by cast iron spears. The garage driveway has an ornate wrought iron arch with an unusual lantern."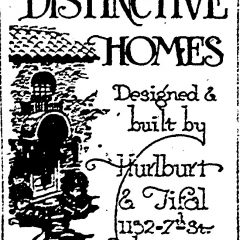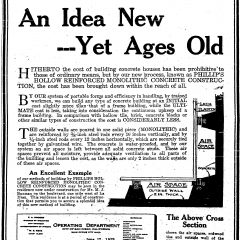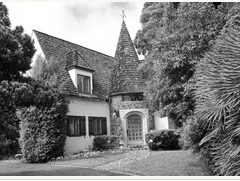 Addresses listed in "An Idea New – Yet Ages Old": 3212 Brant St., 2295 Upas St., 3189 31st St., and 6963 30th St. An article about the "this stunning storybook style" on First Ave in Chula Vista: Flights of Fancy.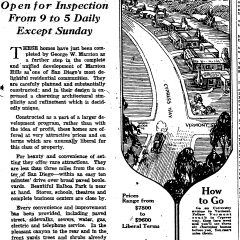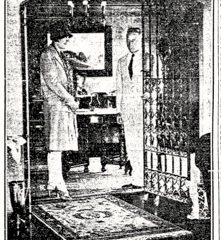 The San Diego Union, Sept. 1, 1926 article above entitled, "Lady Anne Learns about Home Designing and Building from Hurlburt and Tifal," begins with, "When I went to Talmadge Park and saw the Wonder House of Stone, I learned that Mr. Ralph Hurlburt had designed it and I asked more about him." Lady Anne is given a copy of the Distinctive Homes brochure, sees the picture of the Hurlburt home living room and asks to see it in person. "Mr. Hurlburt … I want to see that room. I think that is just what I want, but of course, perhaps not so large, as my home is going to be a smaller one. Could you take me to it?"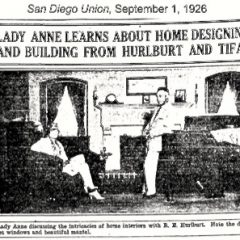 Lady Anne goes on to describe the house when she is given a tour by Ralph, ".. is a beautiful copy of a French peasant home. This idea is carried out in every detail, from the finish of the walls to the tiny cobwebs on the windows (which by the way, are a very pretty example of what can be accomplished by art glass). A picture cannot do the living room justice. It is a very pretty piece of artwork in itself. The walls and the ceiling carry out the idea of rustic beauty. … The dining room through little iron gates is no less attractive than the living room. … Mr. Louis Rothan had … contributed to the artwork on the walls and ceilings in the room."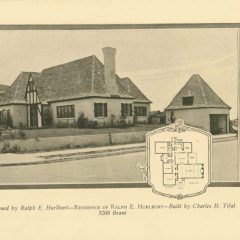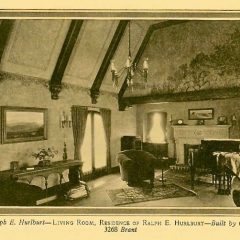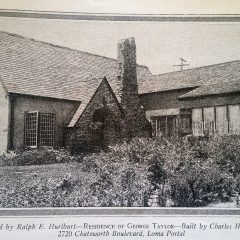 Lady Anne then asks to see the George Taylor home at 2720 Chatsworth Blvd. and describes it "as a very pretty piece of work. " They go back to the Tifal and Hurlburt office to decide on her house. "Mr. Hurlburt designed a beautiful place and I believe it is the most unusual and most attractive of them all. Maybe that is because it is to be my home, but it pleases me very much."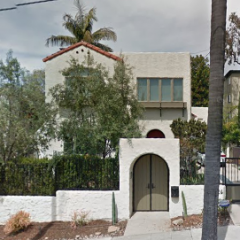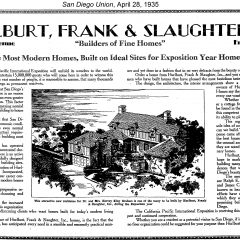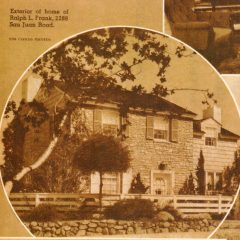 Hurlburt houses are included in several San Diego historic walking tours. The Bankers Hill tour "features some of San Diego's most significant architecture" including the Hurlburt family home at 3268 Brant St. and another Hurlburt design at 3212 Brant St. The Dryden Historic District tour describes 3404 Pershing as "an outstanding example of Pueblo Revival architecture. … Hurlburt was a realtor with a talent for designing distinguised homes."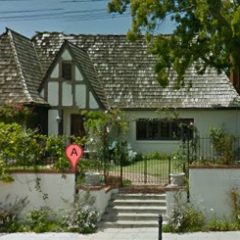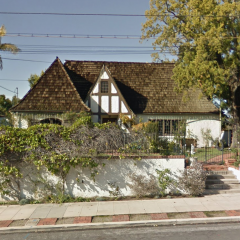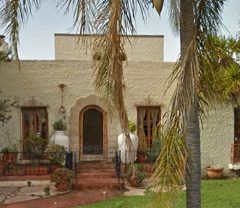 Ralph's father, Clifford, included this interesting description of his son's character in his family history book: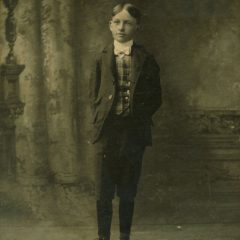 "The following experience will give some idea of Ralph's determination to succeed in what he undertakes.
At the time of the World War he enlisted in the Navy, but before going in he got acquainted with an officer and talked over his chances of getting a commission, and between them made up their minds that he could make the grade.
Soon after joining the Navy he made application to join the officers training school and the old professor, a Yale man, asked him if he was a graduate of Yale or Harvard and he said no. He said, are you a graduate of any college, and he said no. Have you studied astronomy? No. Have you studied trigonometry? No. Then the professor said, young man there is absolutely no use of you trying, it will only be a waste of time.
This broke Ralph all up as he had set his mind on being an officer. He went to the officer he talked to before going into the Navy and related what the professor had said, and the officer said I am acquainted with the professor and will see him and find out if anything can be done. He told the old professor that it was his opinion that if he would take Ralph into the Officers Training School he would come out ahead of some of the Yale and Harvard graduates. The professor said, well if that is the way you feel about it I will give him a trial. So Ralph was accepted and knowing that he had much more to do than the other fellows to be able to pass, worked very hard. When it came to the oral mathematical tests, which were extensive, Ralph's mathematical talent and banking education came to his rescue and helped him out wonderfully.
They gave such problems as, what is 19 times 19 and 29 times 29. Ralph was answering such a large percentage of them that the mathematical professor pointed him out and said, you banker over there just hold up and let some of the others answer part of these questions.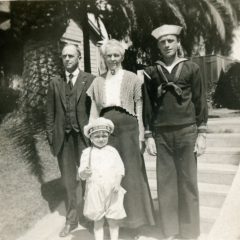 As the class progressed Ralph's good work made him a favorite with the professors and at the finish was chosen leader of the large class, and had the honor and distinction of drilling the class in Balboa Park during the graduation ceremonies.
Several of the Yale and Harvard graduates that entered the class failed to pass."